Am I Eligible?
Native American Home Loan Eligibility: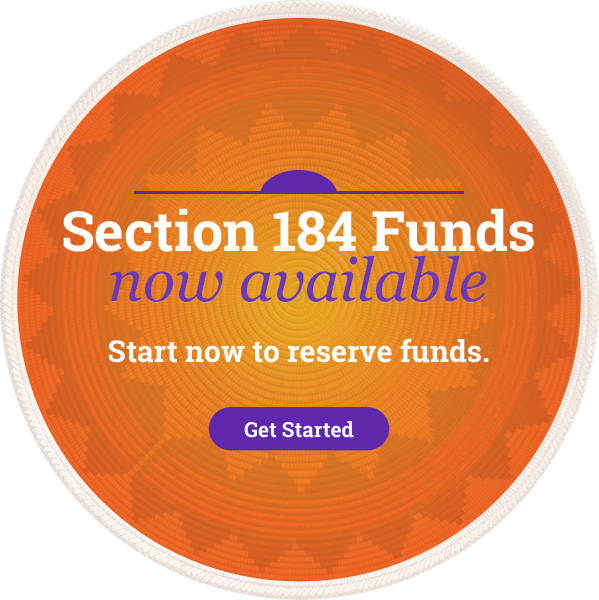 Obtaining a Native American mortgage is simple!
If you are considering a Section 184 Native American Home Loan, the fastest and easiest way to find out if you are eligible is to contact a Native American Mortgage Specialist who can help you determine your eligibility, qualification level, and program options. This process does not cost you anything and there is no obligation. You will simply be matched to a Section 184 Native American Loan expert that will guide you through the process and let you know how to maximize your Section 184 Native American Loan benefits.
Step 1: Am I Eligible?
The primary qualifications of the Section 184 Indian Home Loan Guarantee Program are being a currently enrolled member of a Federally Recognized Tribe or Alaska Native, who is over the age of 18, and will occupy the property as a principal residence.
BORROWER CRITERIA
Income Limits: This program has no income limits.

Purchase Price Limits: This program has no purchase price limits.

Credit: Interest rates are based on market rates, not on an applicant's credit score. There is no minimum credit score required to qualify for the program. However, in all cases, the borrower must be creditworthy. Alternative credit is allowed, but not as a substitute for traditional credit. When delinquent accounts are revealed on the borrower's credit report, underwriters must use their best judgment and experience to determine whether the late payments were due to a disregard for financial obligations, an inability to manage these obligations, or factors beyond the control of the applicant.

First-time Homebuyers: Allowed.

Occupancy and Ownership of Other Properties: Subject property must be for primary residences only. Second-home and investment property use of the subject property are not allowed.

Special Assistance for Persons with Disabilities: Outfitting a home for use by a person with a disability is an eligible use of program funds. 
PROPERTY CRITERIA 
Property Type: Single-family, one- to four-unit homes only. Homes must be of standard quality and must meet applicable construction and safety codes. In addition, homes must be modest in size and design. To meet this requirement, no loan under the Section 184 Indian Home Loan Guarantee Program may exceed 150 percent of the maximum FHA mortgage limit for the area. No commercial buildings are allowed.
   Loans may be used to:
   • purchase an existing home;
   • construct a new home (site-built or manufactured homes on permanent foundations); 
   • rehabilitate a home, including weatherization;
   • purchase and rehabilitate a home; or
   • refinance a home (rate and term, streamline, cash-out). 
LOAN CRITERIA
Loan Amount Limits: Section 184 Native American Home Loans follow loan limits which cap the amount you can borrow on a home purchase. The maximum mortgage loan amount may not exceed 150 percent of current FHA mortgage limits. FHA mortgage limits vary by the number of units and by the county or Metropolitan Statistical Area in which the property resides. HUD issues a Mortgagee Letter announcing the new mortgage limits every year. You can look up the county loan limits for the place you want to buy on this list. Currently, in the state of Oklahoma, the maximum Section 184 loan amount is $420,680.
Loan-to-Value Limits: The LTV is 97.75 percent on loans over $50,000 and 98.75 percent on loans under $50,000. Cash our refinances are limited to an LTV of 85 percent.
Down Payment Sources: No requirement for personal funds. Gifts, tribal grants, and down payment assistance programs from entities with a clearly defined and documented interest in the applicant are allowed. Gifts from entities with an interest in the sale of the property are considered inducements to purchase and must be subtracted from the sales price. Subordinate financing may be used, but must be included in the calculation of the applicant's qualifying ratios. Anything that does not need to be repaid while the borrower lives in the home is considered a gift.
Homeownership Counseling: Not required, but highly recommended. Some lenders or Tribes offer financial assistance to borrowers who attend these classes. 
Mortgage Insurance: Loans with a loan to value of 78 percent or greater are subject to an annual 0.25 percent mortgage insurance premium, which will be split into 12 monthly installments and included with your mortgage payment.
Program Funding Fee: A one-time 1.5 percent up-front guarantee fee is paid at closing and can be financed into the loan. 
Debt-to-income ratio: No more than 41 percent, or no more than 43 percent with two or more compensating factors (minimal housing cost increase, strong credit history, additional income not used as qualifying income, substantial cash reserves, loan to value below 75 percent).
Underwriting: Manual underwriting only. The Section 184 guaranteed loan utilizes a hands-on approach to underwriting and approval. 
Amortization: Loan term can not exceed thirty years. The interest rate is fixed for the entire term. Adjustable-rate mortgages are not allowed
Refinance: Allowed. 
Step 2: Get Qualified.
Underwriting is relaxed compared to conventional mortgages, making it easier to qualify for the Section 184 Native American loan. All borrowers must meet the credit and underwriting standards of the program. The next step is to talk with one of our Native American Mortgage Specialists. Click here to see what kind of loan you can obtain with your Section 184 Native American Loan benefit. Filling out a request doesn't trigger any kind of obligation, loan processing, or credit pull. You are simply asking for more information. We send your information to one of our Native American Mortgage experts, who will then learn more about what you're looking for and what kind of Native American Home Loan you might be able to secure. Click here to get qualified